Fathom Slim ROV Tether (ROV-ready)
This high-performance, low-drag tether is less than 4mm in diameter and has single pair of wires. It's perfect for travel, deep dives, and long-distance dives. A polyurethane foam jacket makes it rugged and abrasion resistant. Comes with pre-installed Binder 770 connector and cable penetrator.
Note: Blue Robotics has conducted ranged communications testing and found that 200m is the maximum communication length for the Slim Fathom Tether. We do not manufacture ROV-ready tethers in lengths longer than 200m.
Product Description
The Fathom Slim Tether is a high performance tether cable designed specifically for ROVs and other subsea applications and optimized for light weight, high strength, and transportability. It is neutrally buoyant, has 300 lb breaking strength, and is embedded with water-blocking fibers to seal any leaks. The tether has a diameter of 4.0mm and is much slimmer than the vast majority of ROV tethers.
The tether carries one unshielded twisted pair (UTP) of 26AWG wire. The core of the cable contains Kevlar strands for strength and Dacron fibers for space filling. Both fibers are impregnated with waterblocking compound to block any leaks caused by nicks or rips in the cable. The high-visibility yellow polyurethane foam jacket resists abrasion and provides neutral buoyancy. A pre-installed Binder 770 plug makes it easy to connect to the FXTI and Fathom Spool. A cable penetrator is installed at the other end to interface with the BlueROV2 or any of our watertight enclosures.
This tether really shines when it comes to it's size. It's slim profile makes it ultra low-drag, making it ideal for deep dives, high current dives, and long distance dives where the drag from the tether is really noticeable. The size also makes it incredibly portable and easy to handle. A hundred meter tether weighs just 3 lb (1.4 kg) and can be managed by hand very easily.
Since the tether only has two wires, is can only be used for the primary communication of the BlueROV2. There are no spare twisted pairs when using this cable, which means that it is not compatible with the Water Linked Analog Locator and is not ideal for applications where you need extra tether pairs.
Contents
Technical Details
Learn
1 x Slim Tether Cable with Cable Penetrator and Binder 770 Connector (choose length above)
Specifications
Parameter
Value
Physical
Tether Diameter
4.0 mm
0.16 in
Weight in Air
0.012 kg/m
0.00805 lb/ft
Jacket Material
Polyurethane Foam
Buoyancy in Freshwater
Neutral
Buoyancy in Saltwater
Slightly Positive
Wire Gauge
0.14 mm2
26 AWG
Working Strength
35 kgf
80 lb
Breaking Strength
155 kgf
350 lb
Minimum Working Bend Diameter
25 mm
1 in
Electrical
DC Resistance @ 20°C
0.0445 Ω / ft
0.146 Ω / m
Voltage Rating
300 VDC


Pinout
| Pair | Wire | Color | Binder Connector Pin # |
| --- | --- | --- | --- |
| Pair 1 | Wire 1 | Blue | 1 |
| | Wire 2 | Blue/White | 2 |
 

Cross Section
Quick Start
1. Install the cable penetrator on a watertight enclosure end-cap, such as the back of the BlueROV2.
2. Firmly attach the tether to your vehicle by following the thimble strain relief tutorial or some other method that prevents the tether from pulling directly on the tether penetrator. The tether can twist the penetrator loose if you do not provide strain relief.
Guides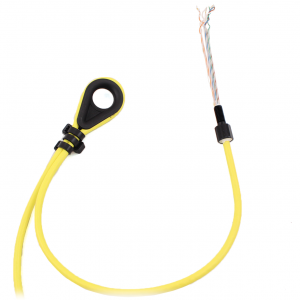 Thimble use with Fathom/Slim Tether
Learn how to securely attach the Fathom Tether to a subsea vehicle!